20 May 2021
Water Saving Week 2021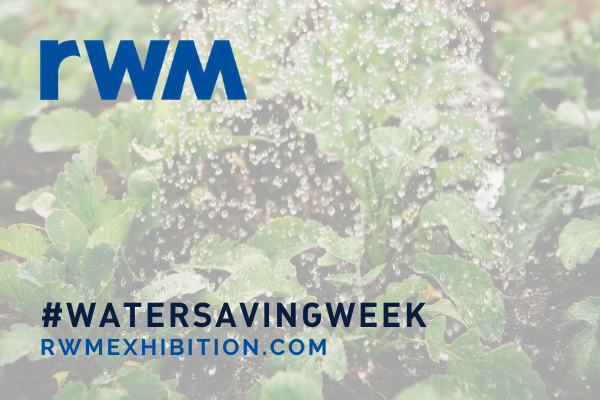 This week RWM is backing Waterwise's Water Saving Week happening May 17 - 22 May. We will be looking at the different ways everyone can reduce water use to help conserve water, improve resilience and protect the natural environment.
Water Saving Week is an annual online event aimed at raising awareness, sharing ideas, solutions and challenges around the issues of water use. It is vital to conserve and protect drinking water. According to the World Health Organisation: "In 2017, 71% of the global population (5.3 billion people) used a safely managed drinking-water service – that is, one located on premises, available when needed, and free from contamination." Even in 2021, not everyone has access to clean drinking water, it is a privilege and we must not forget that.
There are many ways we can reduce the amount of water we use. "Through sharing ideas, solutions and related challenges we aim to help participants connect to how being water efficient can help communities and wildlife to thrive, reduce our carbon footprints, save us money, and help us to keep the UK beautiful!"
This year's themes are:
MONDAY – Talk to your community about saving water.
TUESDAY – Talk to your water company about saving water.
WEDNESDAY – Talk to your plumber about saving water.
THURSDAY – Talk to your colleagues about saving water.
FRIDAY – Talk to your customers about saving water.
This Water Saving Week at RWM we decided to talk to our colleagues to find out how the team reduces the water they use outside:
"The main way I can think to save water is washing your car by hand instead of a car washer or jet washer, they use so much water, it's such a waste! I spoke to my water company, they recommended to install a rain barrel to collect rainwater and use it to wash your car." - Verity, Social Media Executive
"Before watering your garden, grab a basic screwdriver. Using the blade of the screwdriver, insert into the soil. If the blade goes in easily and without force, then you can rest assured that your lawn is getting the right amount of water. If it goes in a little too easy, it's probably getting too much water, and you can probably cut back on watering. You can also test moisture with a soil moisture meter that can tell you how moist the soil is with high accuracy." - Sephi, Marketing Executive
"I spoke to my plumber, and he recommended that installing simple devices such as water-efficient taps and showers will save both water and energy by minimising the use of heated water. An efficient shower head could reduce household bills by up to £120 per year!" - Radu, Marketing Executive
"I am a keen gardener and use rainwater to water plants, it collects in the water tank and is perfect for them. Also, keeping water from boiled veggies like broccoli water is perfect for plants as they get extra nutrients! Saving water and good for nature, win, win!" - Jake, Digital Marketing Executive
"Add organic materials, like compost, to planted beds to improve their ability to hold water and air. Plant native plants. They have lower water and fertilizer requirements and fewer pest problems, than exotic or non-native plants." - Hannah, Marketing Manager
Carry on the conversation by using the hashtag #WaterSavingWeek and don't forget to mention us @RWM_Exhibition