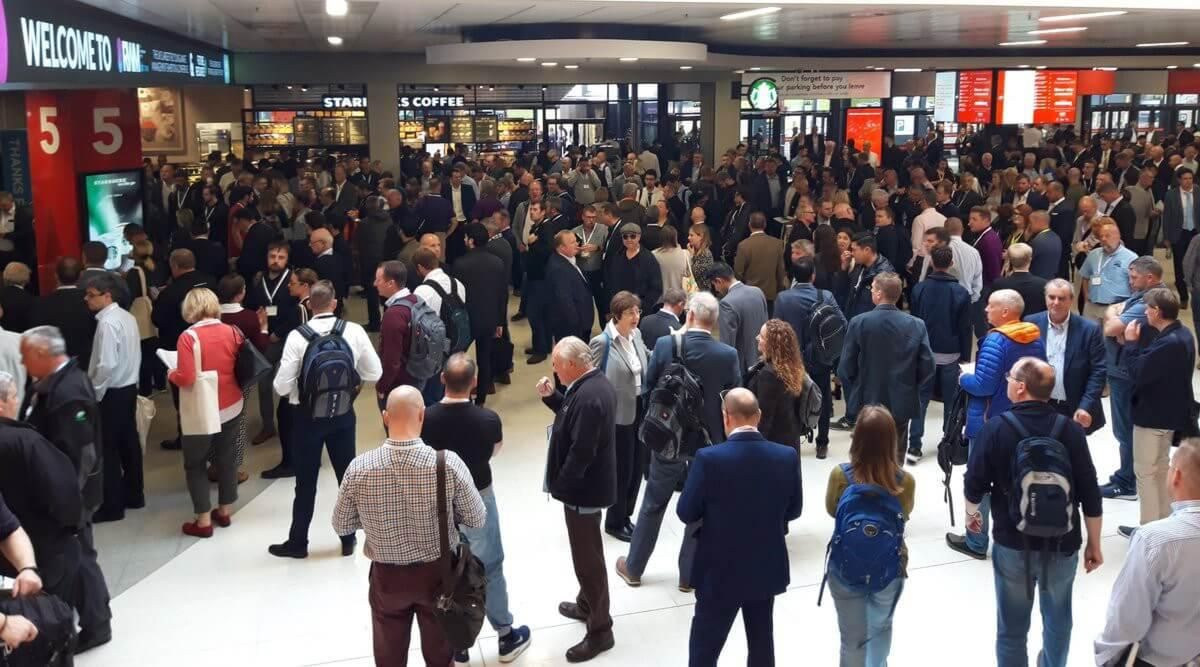 RWM 2019 came and went in a flash, but what a couple of days they truly were. On the 11th and 12th September, tens of thousands of business decision makers travelled to the NEC for what many believed was going to be a typical RWM Exhibition; not knowing how much work had gone in behind the scenes to make this edition of RWM the best yet.
The queues to enter at 10:00am were huge. From the offset, organisers, exhibitors, and visitors could tell it was going to be a busy couple of days. As the large numbers of quality delegates flowed into Hall 5 at the NEC, there was a clear and unmissable buzz in the air, with thousands of people anticipating a busy day ahead of them. With over 500 exhibitors to see, 13 seminar theatres to visit, and various zones to discover, there was never a dull moment at RWM 2019.
Exhibitor Portfolio
At every RWM show you will see the leading exhibitors from throughout the recycling and waste management industry. There were over 500 in total, from every reach of the industry. There were hundreds of highlights throughout the floorplan, but a few really caught the eye. Johnston Sweepers, Waste Care, Romaquip, and Astute Technical Recruitment all showcased some of the best products from new street sweepers to recycling vehicles,and a double decker bus to an elephant made out of used batteries.
First-Class Seminar Programme
RWM's seminar lineup this year was unlike what has been seen before. When you consider the businesses involved, it really shows that the recycling and waste management industry is starting to be taken seriously.
There were speakers from internationally renowned organisations such as: NASA, Procter & Gamble, TerraCycle, and Costa Coffee represented at RWM 2019; covering topics affecting the recycling and waste management industry every day. Jeremy Paxman, Patron of Clean up Britain, Dr Anne Meier, Chemical Engineer and Principal Investigator at NASA, and Tom Szaky, CEO and Founder of TerraCycle delivered three of the most captivating keynote seminars at the event, attracting huge crowds in the process.
Above all else, the role of RWM in the industry is to educate a wide range of businesses about new sustainable practices and technologies that will help save their business money whilst also becoming increasingly environmentally friendly.
New Products Launched at RWM
Sworn to secrecy from the businesses involved, RWM played host to an impressive array of product launches, from some of the best known businesses in the industry. Ranging from municipal sweepers to waste pressers, there were a wide range of new products revealed to the UK's largest recycling and waste management exhibition.
One of the most eagerly awaited launches at the event was at Karcher UK's stand, where they were due to release their brand new MC 250 municipal sweeper. After releasing teasers on their website, Karcher had revealed the new MC 250 road sweeper. The MC 250 offered something rarely seen on the market; an environmentally friendly sweeper that doesn't let up on performance.
Another exhibitor, LSM Waste Equipment, also released a new product - the new P6 REL Packer. The P6 Packer is designed to deal with waste in space conscious sites such as apartment blocks and hospitals. It's capable of pressing 15-20 1100 litre bins into a 1x4 cubic metre bin, and allows for 50% less labour, and reduces bin storage space by 50% - allowing for more efficient waste monitoring.
Testimonies from Visitors and Exhibitors
It's not just us here at RWM that are calling the exhibition a massive success this year. Visitors and Exhibitors alike commented on how good RWM was this year, with everyone from Students to Managers, and Managing Directors to CEO's, there has been overwhelmingly positive comments coming from the industry:
One commenter, Craig Dick, Director at Progressive Waste Solutions Ltd said: "Extremely beneficial trip to the RWM Exhibition for PWS this week. Lots of good contacts made, looking forward to building some long-term working relationships!"
Jon Holttum, CEO at Fissara added: "What an absolute belter of a show we had at RWM this year, fantastic teamwork and masses of interest in Aderro… Wow!"
CIWM: "With packed aisles and inspiring speaker sessions, RWM demonstrated once again why it is the must-attend resources and waste event. The CIWM stand was a hive of activity, presenting the perfect opportunity to catch up with our members and introduce ourselves to new friends"
Chris Long, UK Sales Manager at Yilmaz UK Ltd who concluded: "Well what can I say about RWM 2019? It had negative publicity before the show due to previous years, changing organisers etc. I must say I had my doubts about 2019 but PRYSM delivered and the show has been a great success."
Looking Forward to 2020
As an annual event, there is no need to wait too long for the next show.
If RWM 2019 is anything to go off, 2020 promises to be the UK's best recycling and waste management event yet. The dates have been confirmed as Wednesday 16th and Thursday 17th of September 2020, again at the NEC Birmingham, make sure you order your free tickets and book the time off!
Everyone here at RWM would like to thank the Exhibitors, Speakers, Visitors, Partners, and NEC Organisers for helping us to put on the best possible show. It allowed the UK's largest recycling and waste management exhibition to not only live up to expectations, but exceed them — cementing the RWM's title as the most important recycling exhibition in the UK.
If you want to enquire about exhibiting or sponsoring at RWM 2020, please get in touch with Managing Director James Williams at james.williams@prysmgroup.co.uk or 0117 929 6083.