06 Sep 2021
The Department for International Trade at RWM 2021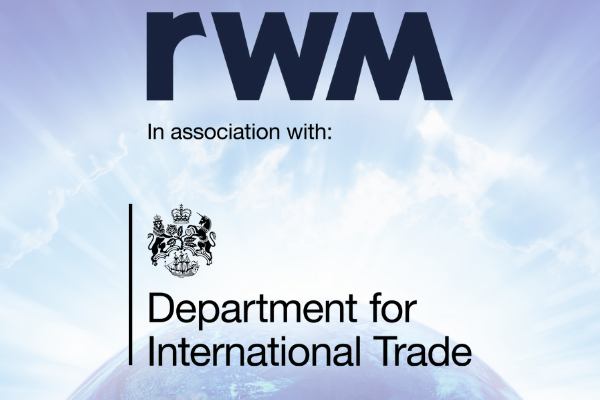 The Department for International Trade (DIT) helps businesses export and grow into global markets, as well as supporting overseas companies to invest and grow in the UK. RWM are pleased to partner with the organisation, offering a platform for your company to come and meet with the DIT at the show to discuss plans and put together strategies for expanding your business overseas.
DIT has investment and trade specialists who can help you commission services from local experts in the UK and overseas, including country, sector and policy advice, local market research, support during overseas visits, identifying possible business partners, and preparation for exhibitions and events.
Head on over to RWM to meet with trade advisers and find out more about how you can benefit from the DIT's Services.
Internationalisation funding for businesses in England
With grant funding now available for businesses in England wanting to export overseas, find out if you are eligible for match-funded grants of between £1,000 and £9,000 subject to availability. The Fund is currently available throughout England except Cornwall & Isles of Scilly, which has its own similar scheme.
The fund can be used to support areas including (but not exclusively limited to):
Trade fairs (including RWM)
Market research
IP (intellectual property) advice
Translation services
International social media/SEO
Independent market visits
Consultancy and other international commercial services
Is your business eligible?
The company must be based in England
The company must be a small or medium sized enterprise (SME) with up to 250 employees
No more than 25% of the business is owned by an enterprise which is not a SME
Annual turnover does not exceed €50 million or annual balance sheet does not exceed €43 million
If you are an eligible business looking to exhibit at RWM and want to take advantage of this match funding, contact us today on sales@rwmexhibition.com for a quote to share with your DIT advisor.
Get in contact with your local adviser for more information and advice here.