22 Aug 2022
Sustainability West Midlands - Roadmap to 2030

Sustainability West Midlands (SWM) was established in 2002 and is the sustainability and low carbon adviser for the leaders of the West Midlands. Their vision is that the West Midlands is leading in contributing to the national target of net zero greenhouse gas emissions by 2050 whilst addressing health inequality and driving inclusive growth.
SWM is an independent not-for-profit company that works with members who are leading individuals and organisations in the business, public and voluntary sectors. They have approximately 115 members and they strive to make their membership reflect the diversity of the different interests, expertise and networks within the region.
"The input of SWM has been huge in helping set our priorities." Andy Street, West Midlands Mayor.
They monitor the regional Sustainability Roadmap to 2030 that acts as a framework to encourage organisations in the West Midlands to operate more sustainably. They enable innovation, leadership, collaboration and celebrate success. As part of the Roadmap, their Resource Efficiency target is to achieve a household recycling rate of 55% by 2030. SWM consulted with WRAP in the development of this target, along with many experts across our membership base not least through running an event on the Future of Organics in 2019. In addition, the Resources and Waste Strategy currently sets a target of 50% household waste recycling by 2020. They had originally wanted to set a more ambitious target than 55%, but the aforementioned experts encouraged a more realistic goal, given the complexities of kerbside collection. Instead, they encourage users to adopt circular and waste minimisation approaches, even if it's just taking your empty bread bags to a recycling point!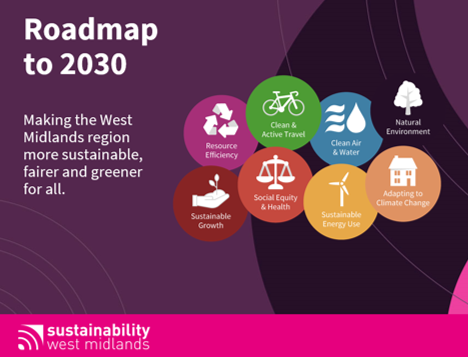 This target is about embracing and encouraging a circular economy approach to everything they do. From procurement choices to our own shopping habits, can you ensure that all products, from plastic cups to mobile phone parts, are sustainably sourced in the first place, used for as long as possible, and re-used or recycled efficiently and effectively at end of life? They work with our stakeholders to promote good approaches to achieving genuine circularity.
The way they use their supply chains to create products and waste as a result has a huge impact on society, the economy and the environment. We are in a 'plastic crisis' as showcased by high-profile media coverage, and SWM want to work with their stakeholders to encourage a reduction in plastic and other waste by minimising consumption in the first place and re-using and recycling what is used.
Current progress on this target (2021) shows that more action is needed. Current performance around household recycling across the West Midlands is on average 44% although in some areas it is down at 30%, with some of the lowest rates in the country.
Future modifications to this target will take account of the redefinition of 'municipal' waste once more comprehensive data is available, especially in relation to business waste.