09 Nov 2020
RWM Digital announces free online Spotlight series- Wednesday 25th November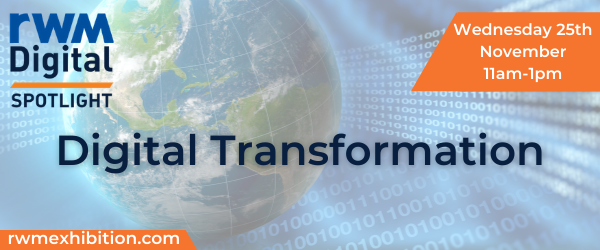 RWM, the UK's leading recycling, resource and waste management event, are pleased to announce the launch of our RWM Digital Spotlight series, with the first online session on digital transformation taking place Wednesday 25th November, 11am-1pm (GMT).
The RWM Digital Spotlight series focuses on a range of specific subjects in the industry, bringing bite-sized live seminars of 15-20 minutes from expert speakers. These are packaged together to provide learning and answer key questions or challenges facing the sector, in just a few hours. 
As the resource and waste management sector continue to adopt digital technologies, the first Spotlight, Digital Transformation, focuses on how organisations should evaluate a growing range of supporting technologies and services to maximise the efficiency of resource management. The topics included are:
How can IoT devices help businesses work smarter, not harder

Where can AI and Machine learning help automate processes to achieve efficiencies

In the world of ever-increasing data, how can organisations get more from their data

What cloud-based systems should organisations be implementing to stay ahead
Hear from speakers such as Andrew Kemp, Co-Founder & Chief Executive Officer of LitterCam, and Stephanie Haines, sustainability expert from Gensuite Europe who will be talking about building EHS value from integrated waste management and reporting technology.
Visit the RWM website to keep up-to-date with more speaker announcements and register free here.