19 Mar 2021
International Day of Forests 2021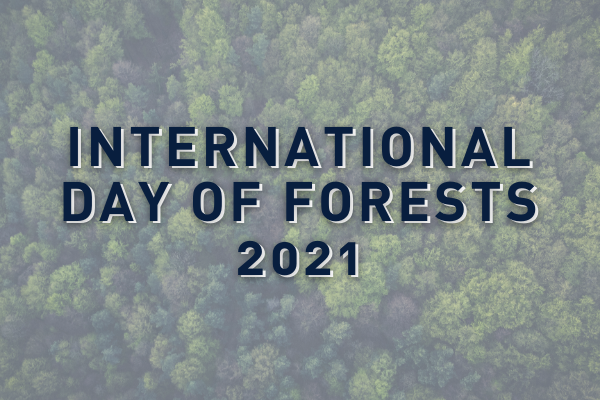 The theme for this year's International Day of Forests 2021 is "Forest restoration: a path to recovery and well-being." With an unprecedented year that has affected us all, it gives us time to reflect on our dependency to nature. It has highlighted the importance of our outdoor spaces, especially the effect our forests and woodlands have on our mental health. It has also shown the willpower and strength of humanity during a crisis.
This year's theme helps to address the importance of restoration and sustainable management of forests in the urgent need to address the climate-change and biodiversity crises. The United Nations state that: "It also produces goods and services for sustainable development, fostering an economic activity that creates jobs and improves lives. This year's theme fits into the UN Decade on Ecosystem Restoration (2021-2030), a call for the protection and revival of ecosystems around the world."
At RWM we are committed to helping address the restoration and sustainable management of forests, for every exhibitor or sponsor RWM receives, a tree is planted in our growing UK woodland. The RWM Forest is a fantastic initiative with Forest Carbon that aims to offset the unavoidable CO2 created to make a trade show of this scale possible. Our partnership with Forest Carbon was created in a bid to help reduce the environmental impact of our exhibition. As we start our own journey towards sustainability, we are supporting UK woodland creation on behalf of our exhibitors – planting a tree in a woodland area in Cumbria for every one of them.
What is The RWM Forest?
Partnered with Forest Carbon, RWM has planted 1,100 trees so far. They cover just under 2 acres of a much bigger Forest Carbon project in the Lake District. The project is certified by independent auditors under the UK government's ISO 14065 accredited Woodland Carbon Code, meaning quality assurance and transparency.
Why Are We Doing This?
As an organisation with an important role to play in disseminating innovation and best practice across the environmental sector, we want to do our bit by reducing our footprint where possible. We welcome initiatives to further our commitment to sustainability.
Who are Forest Carbon?
Forest Carbon are the UK's leading carbon woodland developer – planting new UK woodlands for capturing carbon dioxide, and creating new ecosystems. Since 2006, Forest Carbon and partners (including Microsoft and Kier) have created over 8 million trees in 170 new woodlands, that will capture over 1.8 million tonnes of CO2 from the atmosphere. RWM wants to contribute to this future carbon capture.
Where is it?
The RWM Forest is on our own patch of land in the UK's Lake District.
An Added Bonus
The RWM Forest will grow with each new exhibitor and sponsor we receive. What's more, it doesn't cost you anything - consider it an added bonus for becoming part of our show.
Planting Your Tree
When you join RWM as an exhibitor, we will assign a tree in your name for Forest Carbon to plant. You will receive an official Forest Carbon PDF certificate and we will provide you with artwork to promote your involvement.
Why not get involved with RWM and plant your tree?
Find out more from RWM by signing up to the monthly newsletter – RWM Insights.