20 Apr 2021
EARTH DAY 2021: #RESTORE OUR EARTH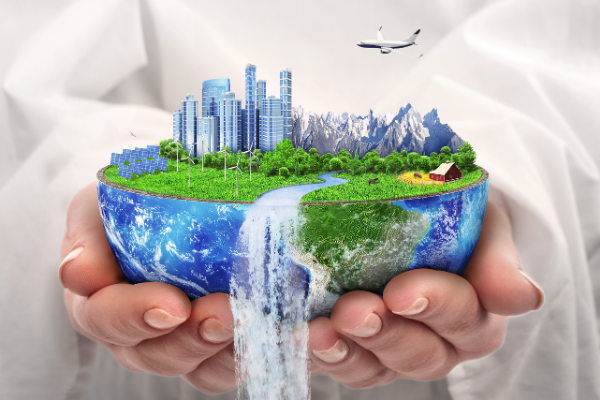 Every year on 22nd April we celebrate Earth Day to remind us that the planet Earth and its ecosystems provide us with the necessary conditions for the conservation of life.
Widely recognised as the world's greatest awareness celebration, Earth Day is marked by more than a billion people each year as a day of action to change human behaviour and create global, national and local policy changes.
A Half-Century of Awareness
It is the 51st time we celebrate the connection we have with nature, plants and the earth, an essential part of our health and all that we are. Earth Day reminds us to take care of our planet - whether we litter pick, plant more trees, recycle or take measures to reduce our carbon footprint - all these actions help preserve the planet. It's a global effort as 193 countries around the world have their own version of celebrations. In many places, Earth Day forms part of Earth Week: a longer period of climate awareness that includes activities and campaigns. Earth Day have a different theme each year, this year's theme is Restore Our Earth.
Earth Day: What is it?
The very first Earth Day took place on 22nd April 1970 with a simple aim: to raise awareness of the role of humanity in protecting our natural world. In 1970, Wisconsin Senator Gaylord Nelson and activist John McConnell separately asked Americans to join the grassroots demonstration. McConnell initially chose the spring equinox (March 21, 1970), and Nelson chose April 22, which became the official date of the holiday. (earthday.org)
The event was a huge success as 20 million Americans ventured outdoors and protested in favour of a more eco-conscious society. Earth Day went global in 1990, mobilising 200 million people in 141 countries and lifting environmental issues onto the world stage.
Originally a political movement, Earth Day has become a popular day for so many communities to meet and collect garbage, plant trees, recycle or simply contemplate the beauty of mother nature. Earth Day is a historic moment when the world's people stand up in a united call for the determination, innovation, ambition and courage we need to face the climate crisis and seize the opportunity for a zero-carbon future.
Play Your Part
As there is no planet B, it's mandatory to start protecting our planet now. Every individual should play their part. Here are just a few of the things you can do.
Reduce, Reuse, Recycle. The three 'R's are an important part of sustainable living, as they help to cut down on the amount of waste, we have to throw away to conserve natural resources and limit landfill.

Educate yourself and teach others. The more you learn about recycling the more you understand the importance and value of our world's natural resources and you can help others understand it too.

Conserve water. Using less water means less wastewater will end in rivers, lakes or oceans.

Shop responsibly. Bring your own reusable shopping bag, use your own travel mug and buy less plastic.

Use Sustainable Lighting. Energy-efficient light solutions dramatically reduce greenhouse gas emissions. And turn off the lights when you're not using them.

Plant a tree. Or more. By absorbing carbon dioxide from the atmosphere, trees help to combat climate change. Trees help to improve soils and prevent flooding and erosion.

Cycle more, drive less. Cycling reduces air pollution as biking and walking as well emit no greenhouse gases. Cycling reduces noise pollution and road congestion.

Eat sustainably. Sustainable agriculture enables us to produce healthful food without compromising future generations to do the same.

Choose non-toxic chemicals. Conventional chemical products leave toxic residues that end up in our waterways contaminating them. Use natural, non-toxic cleaning products instead as they can clean and sanitise your home or your office as good or better than the conventional ones.

Volunteer. As an environmental volunteer, you help ensure protecting endangered plant and tree species by participating in their conservation. Volunteering for the environment increases the emotional bond between us and nature.
To find out how you can get involved and for more information follow #RestoreOurEarth and #EarthDay