09 Oct 2020
Decarbonising the waste fleet: Veolia answers your questions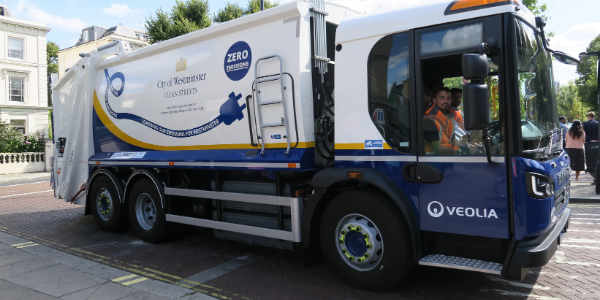 Thank you to everyone who joined us for our first Digital Guide, Decarbonising the Waste Fleet, on the 16th September! It was fantastic to see so many of you join us and engage with our incredible speakers, we hope to see you all again in the next Digital Guide of the RWM Series.
Decarbonising the Waste Fleet
The race is on to decarbonise council operations across the UK, with 67% of councils having declared a climate emergency and the government's commitments to Net Zero by 2050. As local authorities look to tackle emissions and air pollution, attention has turned to the waste collection rounds still reliant on refuse collection vehicles (RCVs) that are powered by diesel-fuelled engines.
It is a well-known fact that alternatives to the traditional diesel RCVs are going to be a considerable piece of this jigsaw. Decarbonising the Waste Fleet explored the challenge of reducing emissions, from discussing the need for change, through to exploring the solutions and infrastructure required to make the change happen.
Fleet Electrification: Veolia's Journey so Far
Julien Amouyal, Head of Smart Cities at Veolia UK&I and Managing Director of Snowglobe, Veolia's specialist energy consultancy, started off the guide by talking us through Veolia's journey to decarbonisation so far.
It was fantastic to touch on some interesting issues in Julien's session and explore Veolia's view on fleet electrification. Unfortunately, Julien couldn't be there for the live Q&A so we submitted your questions to a Veolia UK spokesperson afterwards and are happy to share their response below.
Q&A with Veolia
"Are there different considerations organisations should be looking at in terms of range when using electric refuse collection vehicles (eRCVs) in urban settings compared to rural settings?
There are many considerations when using electric refuse collection vehicles (eRCVs) across settings, in particular the distance the vehicle is covering as well as the elevation. A hilly route will drain the battery faster than a flat route covering the same distance. Typically, eRCVs will come with the same battery as standard and while electric vehicles (EVs) are able to recover some charge through braking, managing the state of charge of the battery for the whole journey is key. If trucks are completing two collections in a day then they will likely need to be charged in between the two, depending on the demands placed on their battery.
Does Veolia own the charging infrastructure? What are some of the considerations that were taken to install this infrastructure?
We are championing electric vehicles due to their environmental and social benefits. In just the last 6 months we have installed 50 charging points around our depots and sites and we own all this infrastructure on our sites.
When installing these charging points the two primary factors we consider are the site's electrical import capacity (how much more power the site is permitted and able to safely import in order to meet charging requirements) and whether the surrounding electrical network has capacity.
What is the long-term plan in regard to supply? Both speakers have mentioned draw on supply during working hours requires some consideration. With the 2035 agenda, one wonders if that problem will become increasingly more difficult to manage?
The Government, alongside our sector, have made clear the UK's commitment to reaching net zero. In fact, National Grid's Future Energy Scenarios support decarbonisation of heat and transport as a key element in a future carbon zero grid. Electric vehicles are imperative to meeting this goal.
We plan to keep developing and adapting electric vehicles and their routes to manage their charge and meet the demand. Through smart charging, we plan to schedule charges so that we pull electricity from the network when there is least demand and is most cost-effective with the majority of supply from renewable generators like wind or solar.
Soon these vehicles will also be able to inject electricity back to the grid or pause charging when the network is in need of power. These vehicles are a huge asset to the national electricity system as they are effectively a mobile virtual power plant, navigating up and down the UK, charging and discharging as they need to, and dependent upon demand.
Has Hydrogen ever been considered as an alternative? If not, any particular reasoning?
We consider all avenues for carbon-cutting the waste fleet and so far the most environmental and economical way is through the use of electric vehicles.
How does the operating cost of an eRCV compare to the traditional diesel alternative?
The energy source for eRCVs is by far cheaper than diesel. With fewer moving parts and no emission restrictions, operating costs are lower also. The end of life is also likely to be more economical as there are some interesting leasing models appearing for battery leasing which bring down the investment cost. Vehicles would be purchased and their batteries leased for their usable lifetime. After such time the manufacturer takes them back where they are repurposed in second-life applications.
What considerations should organisations make in terms of training? i.e. maintenance teams, drivers, waste collection teams?
The safety and training of our employees and the public is of the utmost importance to us in all we do and rolling out an electric fleet is no different. HV cabling is the main consideration, connecting with the DNO and preparing the site for cable laying works and charge post installation. Vehicle-specific training on usage, including range and charging is also key, but this is often provided by manufacturers. Looking to the future, the Institute of Road Transport Engineers will soon bring out an EV-specific certificate for eRCV use which should hold useful guidance on charging, use, maintenance etc.
Is Veolia looking at small/micro electric vehicles for collections? e.g. cargo bikes etc.
We have completed projects with street sweepers and vans and are continually innovating and adapting to demand whilst providing the most environmentally friendly service."
Watch on demand
Did you miss the RWM Digital Guide to Decarbonising the Waste Fleet? Enter your details to watch it here now on demand!
Is there a specific topic that you would like to see? The RWM Digital Series is for you - get the answers and guidance you need by telling us what you want to see!