19 Aug 2021
Cumbria Council and Freegle – Making reuse count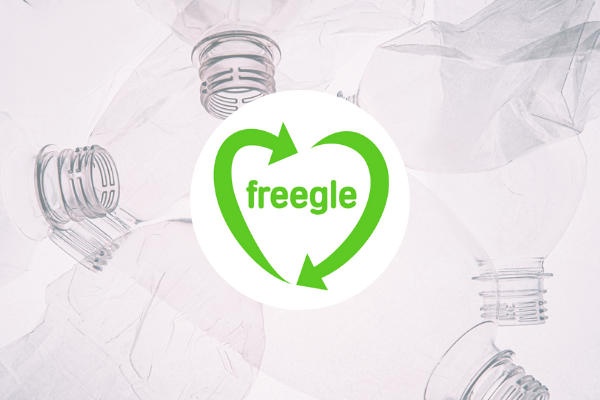 Two successful partnerships between reuse charity Freegle, Cumbria County Council and Essex County Council have led to new ways of thinking about reuse in the community. They are best practice examples of how the public sector can meet the not-for-profit, to achieve more with less.
At RWM this year, our co-founder, Cat Fletcher will be discussing how local authorities can work in partnership with us to replicate the success that Essex and Cumbria have achieved. Read on for our case studies from these two authorities and then join us in the Collections and Transport Theatre on 22nd September at 4pm to hear more.
Cumbria Council and Freegle – Making reuse count
Since 2014, the Waste Prevention Team at Cumbria CC together with seven local Freegle communities and other partners have jointly facilitated the creation of a community of more than 20,000 Cumbrian Freegle users. In 2020, an estimated 135 tonnes of 'stuff' got diverted away from the waste stream and put back into good use, representing a CO2 saving of 68 tonnes for the county. The partnership was also shortlisted for the 2015 Partnership Award at LARAC.
In 2014 relationships began to flourish during Freegle's Big Lottery Project. With support from Cumbria Action for Sustainability (CAfS), Penrith Action for Community Transition (PACT) and the Sustain Eden Project, the initiative's aim was to encourage residents to 'Grow Your Own'. Freegle got involved by providing an easy-to-use platform where people could find and share resources such as seeds, plants, tools and equipment. A series of events and community projects were developed, with the help of other partners and funders, in response to this idea.
Helped by funding from the Cumbria Waste Prevention Fund, approximately twenty 'Give and Take' events have been held across the county in venues such as village halls, to give residents an opportunity to give away their unwanted possessions and pick up some new treasures.
"Give and Take events have not only been a fantastic mechanism for reuse but also a great place for positive community engagement and information exchange." commented Waste Reduction Officer Judith Bradshaw.
A new Freegle app, which makes using Freegle even easier, was launched in 2015 with funding from Cumbria CC and the partnership has been fruitful in many ways not least by supporting the community during the Covid pandemic.
"Freegle is terrific for reuse and for the environment but can really help people too. The Covid crisis has hit households in Cumbria hard, resulting in severe financial pressures. When restrictions have allowed, Freegle has enabled residents to safely access much needed household items completely free of charge" said Judith Bradshaw "together we have made Freegle an important part of Cumbria's waste minimisation programme. By promoting Freegle across all of our services we can encourage as many residents as possible to sign up and take part."
Essex County Council & Freegle - Supporting resilient communities through reuse
The Sustainability and Resilience Team at Essex County Council, otherwise known as 'Love Essex', are a team of ten, working across a range of sustainability projects. Encouraging reuse has long been an integral part of the Love Essex offer. Alongside this, a number of community-led, local Freegle groups began to form in the county after Freegle's launch in 2009. The Love Essex team were quick to see the financial and social benefits of engaging with Freegle further and in 2016 a mutually beneficial partnership between the two was formed.
Cathryn Wood – Senior Circular Economy Officer at Essex CC commented:- "When planning our media campaigns, an emphasis on reuse and the promotion of Freegle makes perfect sense. Reuse is something that virtually every resident can start doing today, without having to leave home. There are few barriers, the benefits are obvious and Freegle makes the process very easy."
There are currently twenty local Freegle groups across Essex, with almost 70,000 members. In the last 12 months, 164 tonnes of 'stuff' was reused via the platform, saving an estimated 83.8 tonnes of CO2.
Cathryn Wood explained why Essex County Council support Freegle:- "Local Freegle communities have been active within the community for several years now and as a local authority we felt compelled to support and encourage them. There are some excellent examples of reuse already happening within the groups. The fact that residents can pass on a range of useful resources such as furniture, clothing or children's toys, means that those in our community who are most in need, get to access such items for no cost. For us, supporting a charity such as Freegle is also a way of encouraging resilient communities, especially in these difficult times. But the benefits don't end there. For every tonne of material that is reused, the local authorities reduce collection, processing and disposal costs."
"The local groups with their band of volunteers are completely self sufficient so we don't need to get involved with any of the day to day activity" said Cathryn. "Even with a small investment, Freegle has the capacity to deliver significant, meaningful and measurable results which are of great value to Essex County Council and its residents."
In addition to the online activity, Freegle artwork and information has been included in magazines, newspaper adverts and on bookmarks sent to libraries. Radio campaigns are also used from time to time.
Love Essex also has a YouTube channel hosting a series of excellent Freegle video shorts which have also proved to be a highly effective way of communicating with residents. These resources are also available for other councils to use, along with everything in our Communications Toolkit for Councils – www.ilovefreegle.org/councils