31 Mar 2020
Award-winning vehicle tracking supplier, Quartix, exhibits at RWM'19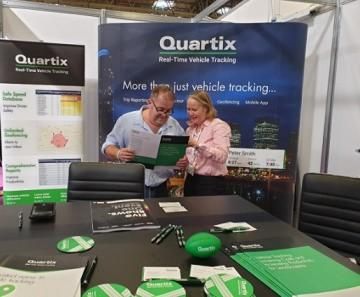 RWM 2019 was a busy event, packed full of great exhibitors and speakers, showcasing a fantastic range of products, plans and achievements in the recycling, energy and waste management sphere.
On the Quartix vehicle tracking stand, we met a host of new contacts that were interested in reducing their fleet costs, mileage and carbon emissions and we're continuing those positive conversations from the day. It was also a great chance to catch up with some of our industry partners, such as Fleet Focus, also exhibiting at the show.
Quartix works with many organisations specialising in waste management in both the public and private sectors. These include Worcester City Council and Guildford Council and both have seen efficiency gains and strong cost savings using the Quartix system.
We were delighted to bump into many enthusiastic Quartix clients at RWM 2019 who were championing our vehicle tracking system.
One of these was Dan Bryant, Managing Director of the Pontoon and Dock Company who popped by the Quartix stand. He commented "We are extremely happy with our investment in Quartix vehicle tracking – it's a great product. I recommend the system to small and large fleet operators." Dan is pictured above visiting the Quartix stand at RWM 2019, telling us all about the work that The Pontoon and Dock Company do.
The 'Zero Emissions Test Track' theme sparked many conversations about how companies who aren't able to invest in electric vehicles can still reduce fleet emissions. Our latest feature in the Chartered Institute of Waste Management Circular online touches on how this can be achieved and our post on simple eco-driving techniques helps businesses to reduce fuel costs, maintenance costs and carbon emissions with small changes to driving habits.
"Congratulations to RWM for a really successful gathering of like-minded businesses, all striving to improve services in the most efficient and sustainable way." Sofie Westlake, Head of Marketing at Quartix.
The Quartix team look forward to meeting you all at RWM 2020!
About Quartix
Founded in 2001, Quartix vehicle tracking system is installed in over 500,000 vehicles and helps 13,000 businesses worldwide cut costs and save on fuel every day. Providing commercial fleet tracking for cars, coaches and vans throughout the UK, US and Europe, the system offers a host of valuable features for fleet managers.
For more information on how vehicle tracking can support your business, visit www.quartix.com/en-gb/ contact Quartix on 01686 806 663 or enquiries@quartix.net.