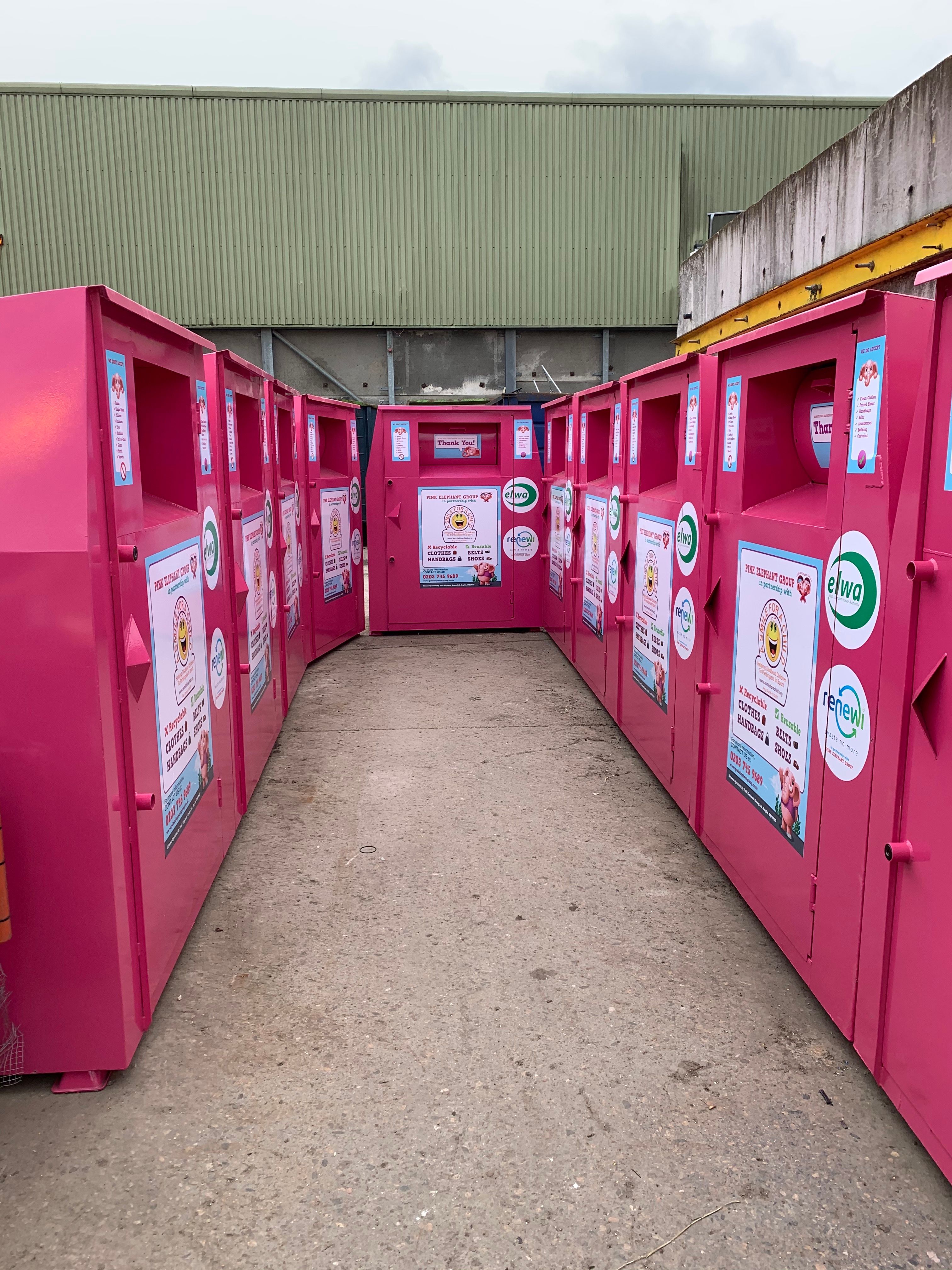 Pink Elephant Group specialises in recycled clothing and operates textile bank collections and recycling schemes. Our textile banks are bright pink in colour, to match our company name and brand. We chose such a name and such a colour to attract more attention to our work and to the recycling and reuse of textiles. We understand that it takes less energy to reuse and recycle material than it does to produce the same material from scratch.
Therefore, our emphasis on what we accept and don't accept is written on our textile banks to promote the reuse of clothing. 90% of what goes in our textile banks is reusable.
The company's main mission is to promote this change towards 'reuse before recycle', as well as to provide support and services to local authorities, charitable and commercial organisations.
This work is becoming ever more pressing, thanks to the rising trend of cheap disposable clothing that leads to thousands of tons of clothes and millions of shoes thrown away in the UK every year. This puts unnecessary pressure on our landfill sites, as most of these materials can be reused in developing countries, both saving natural resources and providing support to those who need it.
But why does this area of recycling need more attention? Clothes that are worn every day are one of the most complicated materials to recycle. They have so many different blends and qualities, and we are trying to highlight that reuse is the best way to prolong the life of clothing and make the general public aware of the subject. This could then affect what is bought and how it is used, with preferences given to higher quality items. Such a shift in perception and understanding of the complexity of recycling clothes will make a massive difference to the whole textile recycling industry.
Through the operation of our textile banks, Pink Elephant Group generates monthly payments to site owners in exchange for using their space. This is ideal for local authorities, commercial companies, and charities who could not only make a positive impact on the environment by letting Pink Elephant Group use their spaces, but also create an extra financial stream in the process.
Looking to the future, Pink Elephant Group is aiming to broaden its scope by attaining new contracts for our textile banks throughout the UK, as well as exploring innovative ways to reuse and recycle clothes through working with other stakeholders in the industry.
Interested in working with us? The company is always looking for new locations to host our textile banks. For more information, get in touch using the details below or head to the website:
www.pinkelephantgroup.co.uk