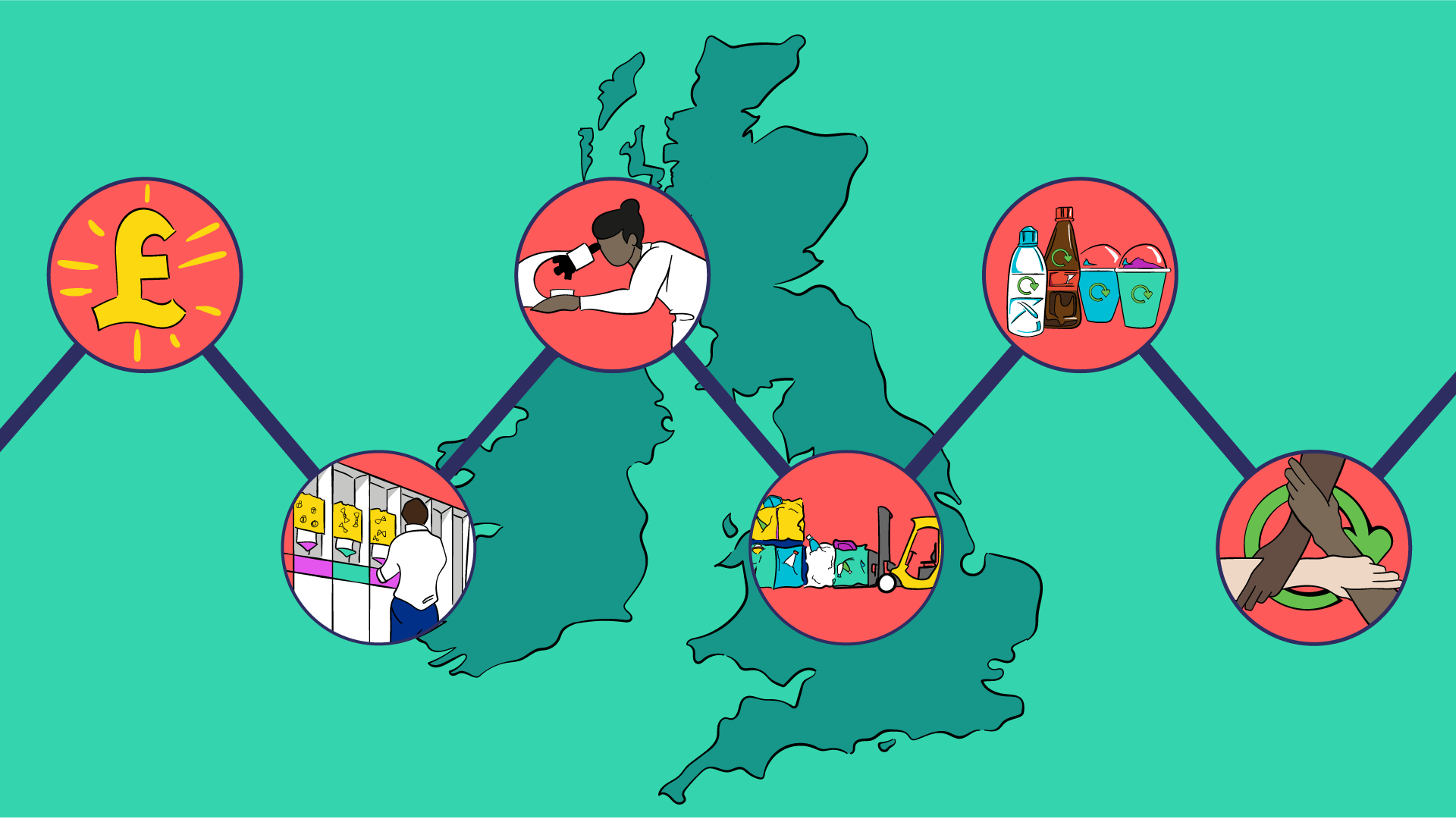 The Smart Sustainable Plastic Packaging (SSPP) Challenge aims to establish the UK as a leading innovator in smart and sustainable plastic packaging for consumer products. It has £60 million in funding that will be complemented by £149 million from industry. The Challenge will deliver cleaner growth across the supply chain, with a dramatic reduction in plastic waste entering the environment by 2025. Delivered by Innovate UK as part of UK Research and Innovation.
Together with the UK Circular Plastics Network (UKCPN), the SSPP team are hosting several companies who have received funding from the Smart Sustainable Plastic Packaging Challenge for innovative solutions to current recycle and waste disposal challenges.
FlexCollect – FlexCollect will help to build a detailed understanding of how best to incorporate flexible plastic packaging into existing household collection services, across different geographies and demographics, to maximise recovery and recycling.
Impact Recycling Ltd – Impact Recycling aims to build a commercial demonstrator plant to efficiently separate this difficult waste stream using their novel, disruptive Baffled Oscillation Separation System (BOSS) technology.
OPRL & Dsposal – A consortium is building an open data standard and prototype portal spanning the complete plastic packaging life-cycle, from design to recycling/reuse.
Manchester University – The One Bin to Rule Them All project is developing a hierarchical approach to collecting and sorting plastic packaging that retains polymers in their highest value condition for reuse, mechanical recycling and chemical recycling to unlock material, social and economic value.
Compostable Coalition - Capturing and processing compostable packaging - behaviour change interventions and infrastructure considerations
Fiberight - Leading the Uncaptured Unrecycled Plastics project to scale up a novel process for the sorting and recycling of plastic packaging from mixed waste streams e.g. MRF reject material